Rector Ceyhun Mammadov: We are working on the Dictionary of Religious Terms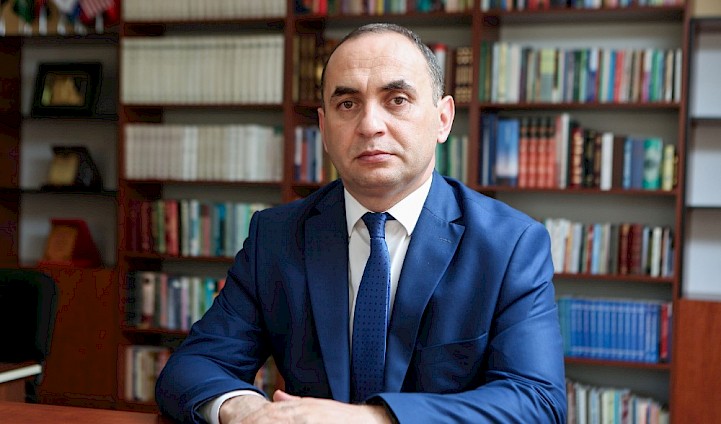 Jeyhun Mammadov, Rector of Azerbaijan Institute of Theology established under the subordination of the State Committee on Religious Associations of the Republic of Azerbaijan by President Ilham Aliyev's Decree dated February 9, 2018 responded to the questions of AZERTAG. We present you the interview:
-Jeyhun muallim, Azerbaijan Institute of Theology has already been functioning for 2 years. What activities have been carried out up to now?
- After our country gained independence, the state-religion relations entered into a new phase as a result of the purposeful policy pursued by National Leader Heydar Aliyev. The state provided religious field with special care as well as built and restored new religious centers. President Ilham Aliev, a worthy follower of the National Leader pursues this policy successfully. The establishment Azerbaijan Institute of Theology is also an important decision in this regard. Established by President Ilham Aliev's Decree dated February 9, 2018, our Institute has been functioning for nearly two years as you mentioned. As it is mentioned in the Decree, the primary goal of the establishment of the Institute is to prepare religious researchers who will preserve and develop religious and spiritual environment based on the historical traditions of the Azerbaijani people and the logical result of the state policy.
Previously, we have done our best with the help of our teachers and students. We prepared the development strategies for our Institute benefiting from the experience of both local and international universities. We expanded our relations with a number of foreign universities as well as local ones. We have also innovated new methods to involve our students in a number of programs. Fall semester exams are coming up. The Institute administration and teachers made every effort to enable our students to participate in the exams with higher scores. Currently, apart from their main workload, our teachers are involved in extra classes. Our library is open not only on Saturdays, but also on Sundays, considering the requests of students. Of course, we are still not fully satisfied with ourselves. We make every effort to develop worthy citizens and religious specialists in our country

- You have repeatedly expressed your opinion about the function of Azerbaijan Institute of Theology as a research institution. How can we define the words of "research" and "study" in our modern-day higher education institutions?
- We are trying to take several important steps to become a research institution. Since its inception, the Institute also plans its activity as a research institution.
I would like to point out that our teachers write books on the studies they are engaged in. We are working on a Dictionary of Religious Terms, which will be published soon. Apart from this, we plan to republish old manuscripts and conduct various studies based on social or historical facts. Our goal is to enhance our activity as a research institution by involving foremost scholars and instructors from various educational and research institutions to contribute to the development of our students.
- How is the situation with choosing a major at AIT?
- In the current academic year, we have organized visits to different regions of the country; held informative meetings about our institute, its goals and objectives, existing majors, faculty as well as subjects taught at the Institute. Dean, deputy dean and heads of departments participated actively in these meetings. Thanks to these meetings, Azerbaijan Institute of Theology admitted students from the remote regions of Azerbaijan. With the help of our teachers, we try to guide these students in the learning process and provide them with the knowledge they in the future. I hope activities in this direction will be successful.
- What can you say about students' opportunity for internships abroad?
- As I mentioned earlier, we had trips to foreign universities and we plan to cooperate with new higher education institutions next year. In both the fall and spring semesters of the last academic year, our students attended winter and summer schools. Attending summer school in Bursa was an efficient experience for our students. They returned with good impressions, interacting with university students from different countries who had acquired knowledge in various fields of religious sciences, sharing the culture of their people. Of course, it is essential for our students to acquire language skills for internships abroad. In this direction, apart from the main courses, our Institute offers extra English and Arabic courses, and in the future, the organization of free Russian courses is also expected. We strive for the professional development of our students.
I would also like to note that we plan student exchange with all the leading universities that we have established partnerships with. In the near future our students will be able to practice in foreign universities.
- Jeyhun muallim, you visit foreign universities. You previously mentioned that your visits aim learning foreign experience. What are the outcomes of these visits? What new things do you learn?
- As you mentioned, we have frequent foreign trips. In early December, Vice-Rector and Vice-Dean of our Institute held a number of meetings at several universities in Turkey and made suggestions to study e-learning experience. One of the main objectives we set after starting our career, was to learn the experience of foreign universities. I visited universities of Malaysia, Russia and Turkey throughout the year. Creating a unified model in our country by using the experience of the world's leading universities in this field is our priority. Such visits are important to improve the efficiency of our work in this area. Each visit was an important step about our study of innovations.
- Previously, you have held various academic events and conferences. What would you like to say about the importance of these events?
- As I mentioned, apart from teaching, the educational events and conferences are of great importance to us. Thus, the 2nd International Symposium on Islamic Civilization in Caucasia can be considered a great achievement. The first symposium was held on the initiative of national leader Heydar Aliyev. In accordance with the presidential decree on the Year of Nasimi, the conference on Phenomenon of Nasimi in the System of Moral Values is of special significance.
Our students participated actively in the project of planting 650,000 trees in the country at the initiative of First Vice President Mehriban Aliyeva implemented in the frame of the Year of Nasimi.
It is worth mentioning the organization of conferences in Turkey and Azerbaijan in accordance with the presidential order on the 150th anniversary of Ahmed bey Agaoglu. Apart from this, conferences devoted to the World Arabic Language Day, Science Day and Mother Language Day were held and materials of these conferences were published.
I would like to note that meetings with various scholars and members of parliament have been held to contribute to the development of our students. I think that holding such conferences, events and meetings can help students gain more experience along with the learning process.
- During this time you have prepared newspapers, journals and other new publications. Are any improvements expected in this field?
- We publish the Journal of Religious Studies biannually, the Journal of Theology four times a year and the newspaper of Theologian monthly. We have published catalogues, booklets and brochures in the Azerbaijani, English, Russian and Arabic languages for the promotion of AIT. We have prepared Statutes, Regulations and Guidelines for the Institute.
Our instructors are working on new curriculum and textbooks. We decided to have all our textbooks prepared by our experts. Several of our textbooks are ready for publication. Our Theological Publications project includes the publication of books by our teachers and their works translated from various languages. This year we have published the translation of the Constitution of the Republic of Azerbaijan into Persian, the book Sociology of Religion as well as 15 scholarly works. These books became the focus of attention in public. We aim to conduct and publish researches on theological issues that meet international standards.
- Thank you for the interview. We wish you success in your future activity.