The latest issue of the newspaper Theologian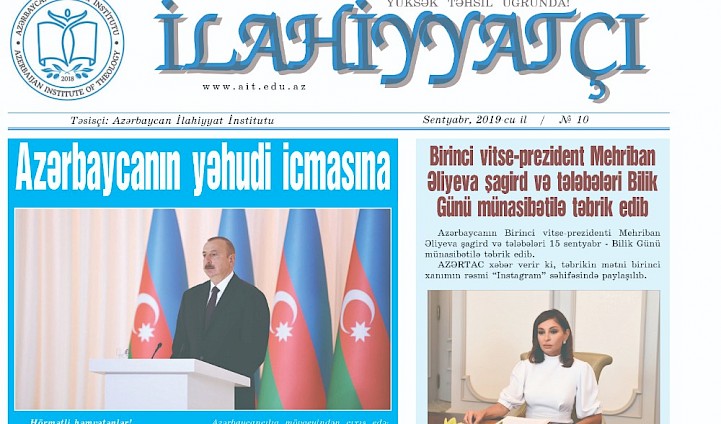 The September 2019 issue of the newspaper Theologian has been published.
The first page of the newspaper presents the congratulatory message of the President of the Republic of Azerbaijan Mr. Ilham Aliyev to the Jewish Community of Azerbaijan, congratulatory message of the First Vice President Mehriban Aliyeva on the Day of Knowledge to students as well as news about her visit to Shamakhi Juma Mosque.
The second page of the newspaper reflects the news entitled "The textbook on Introduction to Multiculturalism has been presented" and "Blood donation campaign in Tazapir Mosque on Ashura Day".
Apart from this, AIT rector Jeyhun Mammadov's article entitled "Social reforms implemented in Azerbaijan ensures the successful development of education" as well as the articles entitled "There is no special Knowledge Day: Every day is for knowledge", "Meeting with newly admitted students and their parents" can be found on the third page of the newspaper.
The 4th, 5th and 14th pages have dedicated articles and news on Karbala events and the Mourning of Muharram ceremonies. "Ceremonies of the Mourning of Muharram in Azerbaijan: Yesterday and Today", "The essence of the Karbala events", "Imam Huseyn of Karbala", "Hazrat Huseyn and Karbala" and Karbala event" can be examples to this.
The 8th and 9th pages of the newspaper provide detailed and extensive information on the international academic conference on Ahmed bey Agaoglu, outstanding public and political figure of the Turkic world.
The various pages of the newspaper present articles such as "The Quran and We", "We educate theologian scholars", "From the history of the manuscripts" "The place of the poem "Hello to Haydarbaba" in the creative activity of Mohammad Huseyn Shahriyar", "Social media and religion", "Mental Health and Religion", "Multicultural and tolerant values in Azerbaijani literature", "The death that was as valuable as life: Mubariz Ahmadov", "Azerbaijan Instittue of Theology from the perspective of a graduate".
The September issue of the newspaper also presents the articles such as "The admission score for the applicants of Azerbaijan Institute of Theology has increased", "Coordinator of Baku office of the Turkish Cooperation and Coordination Agency (TIKA), has visited Azerbaijan Institute of Theology", "A meeting with upper-year students", "A meeting on the activities of the Institute and preparation for the academic year", "AIT holds demonstration lessons", "The book entitled State-Religion Relations in Azerbaijan: Past and Present has been published", "The book Sociology of Religion has been published", "Student Youth Organization has hold a meeting with first year students", "Islamic civilization and science: history and modernity", "Students are provided with textbooks" and "The first issue of the journal of Theology has been published".
The primary goal of the newspaper is to inform public about the Institute activities, implemented projects as well as increase students' patriotic feelings, their intellectual level and contribute to the religious awareness in the country.