Materials of the conference on Language is Our National and Spiritual Wealth have been published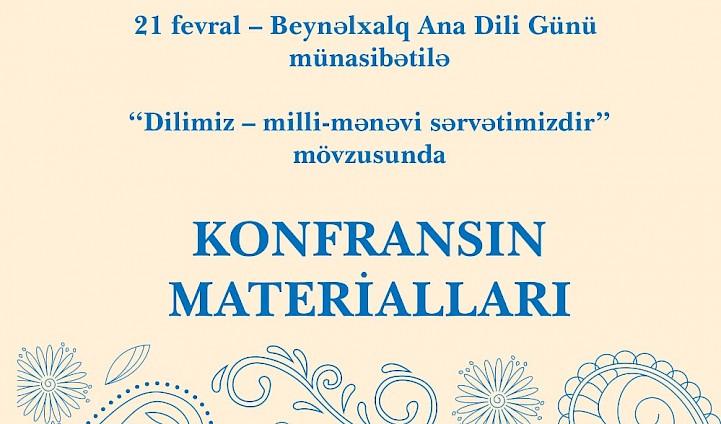 Materials of the conference on Language is our national and spiritual wealth dedicated to the 21 February International Mother Language Day held at Azerbaijan Institute of Theology, have been published.
Submitted articles have been selected for publication by the Organization Committee based on their relevance, academic significance, novelty and results. The book contains 26 articles.
The collection presents the articles such as "Language is the only factor of our national existence", "Migration processes and multi-confessional culture in Heydar Aliyev's language policy", "Language and Spirituality in the Ideological Heritage of Heydar Aliyev", "Nasimi's Language in the studies of Jahangir Gahramanov", "Lexical Archaisms in the Language of Mohammed Fuzuli", "Mother Language and its Development Period", "Russian Borrowings Used in the Shaki Dialect", "Bakir Chobanzade Phase of Azerbaijani Linguistics" and others.
AIT rector Jeyhun Mammadov noted in the preface that language is an important and powerful means of communication that protects and develops the material and spiritual heritage of each nation. Native language plays a significant role in the enrichment of the spiritual world and outlook of individuals, their education and interaction with fellow citizens.
J.Mammadov noted that the President of the Republic of Azerbaijan Mr. Ilham Aliyev is continuing the language policy of great leader Heydar Aliyev and the decrees and orders signed by him are a clear example of the attention paid to the development, promotion and development of the native language.
AIT rector also noted that the Institute is pursuing relevant decrees and orders of the President of the Republic of Azerbaijan in this area and organizes educational seminars, conferences, roundtables, reading days discussing prominent modern and classical writers of Azerbaijan as well as translations from well-known foreign authors.
Azerbaijan Institute of Theology pays special attention to the scholarly publications. The Institute is implementing several projects concerning the publication of books and textbooks. The project, titled "Theology Publications," includes the publication of books by teachers of the Institute and experts working in the field. At the same time, one of the goals of the Institute is to study problems in theology, conduct research and publish international standards. Theological Publications project includes the publication of books by the Institute teachers and experts working in the field. Moreover, the Institute aims to investigate problems in theology, conduct and publish researches meeting international standards.