A book on Religious Life, Science and Madrasas in the 19th Century North-West Azerbaijan (Kanikh-Haftaran Valley) has been published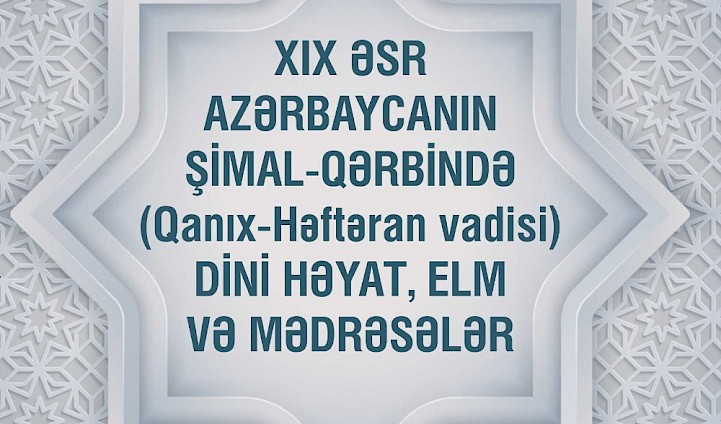 A book by Dr. Ahmed Niyazov, Head of the Department of Islamic studies at Azerbaijan Institute of Theology, entitled Religious Life, Science and Madrasas in the19th Century North-West Azerbaijan (Kanikh-Haftaran Valley) has been published.
The book consists of "Introduction", chapters entitled "Traditions of Irfan and Spiritual Monuments", "Science and Madrasas" and "Sufi Life and its Commitments of Tolerance from the Perspective of Social Impacts". The "Introduction" generally mentions the place and importance of Tasawwuf and Sufism in the history of Azerbaijan. The first, second and third chapters discuss the topics of Sufism as well as the lives and activities of Sufi sheikhs, tolerant values of Sufism, its social aspects, scientific features of the period and the activities of the madrasas, the art of calligraphy, dhikr and mawlid traditions, waqf culture and the poetry devoted to Ashig culture.
The publication also discusses Ismayil Sirajaddin Shirvani movement in the 19th century particularly in the North-West Azerbaijan and its impact on social life. For centuries, the movement has become a school of thought in the manifestation of moral codes and preservation of national and spiritual heritage supporting the protection of mental values in the Caucasus and being guardian of demographic harmony. It accomplished to establish a tolerant environment through Wahdat idea against Shiite Sunni conflict created by Tsarist Russia in the19th century.
The research work is intended for theologians, oriental scholars, historians, experts in the field of religion as well as teachers and students of higher educational schools.
Azerbaijan Institute of Theology implements a number of projects concerning the publication of books and textbooks. Theological Publications project includes the publication of books by the Institute teachers and experts working in the field. Moreover, the Institute aims to investigate problems in theology, conduct and publish researches meeting international standards.