December issue of the newspaper Theologian has been published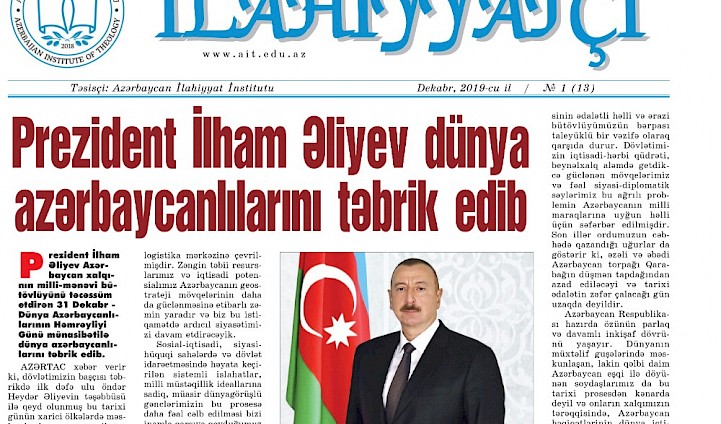 December issue of the newspaper Theologian prepared Azerbaijan Institute of Theology (AIT) has been published.
The first page of the newspaper presents the congratulation of President of the Republic of Azerbaijan Mr. Ilham Aliyev on the occasion of 31 December, World Azerbaijanis Solidarity Day.
The December issue of the newspaper introduces the articles such as "Great Leader Heydar Aliyev commemorated", "Visiting National Leader's grave", "Students Visit Heydar Mosque", "Documentary film Heydar Aliyev: Savior of Our Values has been showed", "The Ambassador visits us", "Student seminar", "We joined the project of planting 650,000 trees", "Meeting with Wikipedia volunteers", "Meeting on the Results of November", "Style and Expression of the Holy Quran", "Azerbaijan Institute of Theology wins a chess tournament", "Students receive certificates of gratitute", "Seminar on World Arabic Language Day", "Our Solidarity: Our National and Religious Unity", "Visit to Baku International Center for Multiculturalism", "Report of the Student Scientific Society", "First-year students at the Synagogue of Mountain Jews", "Sermon on Family and Society", "Meeting on Preparation for Exam Session", Republic Scientific Conference, "Distinguished Awarded", "Students Visit the Catholic Church",; "Bilateral relations with Turkish universities", "Azerbaijani Cinema is showed", "Conference materials has been published", "AIT teacher attends international conference ", "AIT Associate Professor delivers a speech in foreign media" and "Knowledge Contest has been held".
The third page of the newspaper presents the interview of AIT rector Jeyhun Mammadov to AZERTAC.
The eigth page of the newspaper is dedicated to the first anniversary of the newspaper Theologian launch.
Various pages of the newspaper introduce the articles by AIT instructors and academic staff such as "Why do religions exist?" "Has the era of religion ended?", "Culture of gratitude and thanksgiving", "Teacher in society and religion".
The newspaper also reflects AIT students' articles such as "Why are we here?"; "Relationships", "Our solidarity", "We should stand up when hearing Azerbaijan", "What is Happiness?", "Society needs young people with the knowledge of theology" and "Things I learned from the ethics in Tusi's works".
The primary goal of the newspaper is to inform public about the Institute activities, implemented projects as well as increase students' patriotic feelings, their intellectual level and contribute to the religious awareness in the country.