Azerbaijan Institute of Theology has published Theology, a journal of public opinion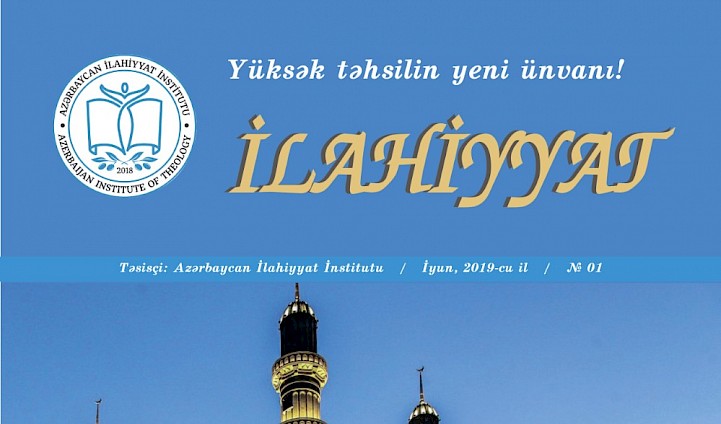 Azerbaijan Institute of Theology (AIT) has published Theology, a journal of public opinion. Consisting of 15 rubrics, the journal includes articles by scholars who are professional in their field and news about the activity of the Institute.
The official section of the first issue presents President of the Republic of Azerbaijan, Mr. Ilham Aliyev's decree on the establishment of Azerbaijan Institute of Theology.
The article entitled the "Founder of Our National Salvation" by Jeyhun Mammadov, Rector of Azerbaijan Institute of Theology, has been published under the rubric Those Who Wrote History.
The rubric Reality of Azerbaijan reflects the article entitled "Our Mother Tongue is Our Identity" by V.Garadaghli, and the rubric Society and Religion the article entitled "There is No Violence Against Women in Islam" by MP Fazil Mustafa.
The Education rubric introduces the article entitled "Management of the Innovative Activity in Higher Education Institutions", Society and Religion rubric reflects "Human Health in Islam", "Religious View of Marriage and its Essence".
Perspective rubric reflects the articles such as "Global Moral Thought in a Philosophical Aspect", "Religious View of Immanuel Kant's Philosophy", "Успех не случаен" (Success is not accidental).
The articles entitled "Gobaklitapa: The Oldest Temple of the World", "Our History Written in Stone in Kalbajar", "Our Material and Cultural Monuments are Our National Wealth", "Our Oldest Place of Faith" and "Mubarak Al-Aqsa Mosque" have been reflected in the Monuments rubric.
The rubrics of Research, Literature, Events, Trips to the Regions, International trips, Seminars and International Guests at Our Institute published the articles such as "Translation Texts:Comparative Analysis", "Bus Thief", "II International Symposium on Islamic Civilization in Caucasia", "Our Students in the Regions", "Meeting with Applicants"; "Visit to the Russian Federation", "Attitude Towards Islam in Modern German Society", "Meeting with US Delegation Members" and "Ambassadors of Foreign Countries at our Institute".
It should be noted that the monthly newspaper Theologian published by Azerbaijan Institute of Theology introduces various articles and news related to the Institute, and the biannual journal Religious Studies presents articles of scholars in the field of philosophy and theology.